Marriage Proposal Ideas
Here's where you can find romantic marriage proposal ideas submitted by site visitors.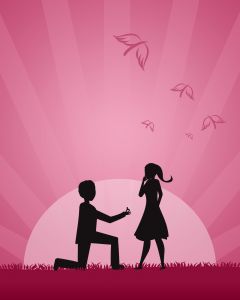 For romantic proposals that leave an unforgettable impression, be sure to read through each of these ideas. Any of these ideas could very well be what you're looking for exactly, or act as the launching pad to the perfect plan you're trying to come up with.
A proposal usually comes with a lot of expectations from both parties. The most ingenious proposal I've read of so far from somewhere else goes along like this:
Guy had his good friend to illustrate a fairytale storybook that tells of his love story with his beloved girlfriend. Then he brought her to a library. Later they found a quiet seating place outside in the open. He said he had borrowed a children book that he'd love to read to her and the girl was all attentive.
As he read from the storybook about the princess and the court jester, she quickly realized that the fairytale was turning out to resemble very much of their own love story.
Saving the best for last, when the guy flipped over to the ending pages, it showed the court jester proposing to the princess, and the location was the exact place where they were sitting right now! That's when the guy formerly proposed to his love.
How sweet is that? Although it was a very private and intimate affair involving only the two of them, to me the guy really took efforts to create a very romantic, touching and brilliant proposal! :)
For more ideas, read on. Meanwhile, if you have an original engagement proposal idea to share over here, please click here.
---
Learn how a little fortune cookie, your local bank, leaving a note on her pillow, and a promise ring treasure hunt could each lead to a beautiful plan unfolding.

Find out how going to places such as a concert of your intended's favorite band, the top of a mountain, a sacred place and an evening picnic could each create a sweet experience that leaves your intended's heart fluttering.

Find out how ordinary items such as huge placards, glow sticks, a bowl of creamy soup, a copy of mixed CD and your intended's favorite song could each help you to create an incredibly creative plan that will bring a big smile to her face.

Curious to see how different occasions such as your first meeting date, Thanksgiving, Valentine's Day, the day you met her at a concert could each bring an unexpected surprise that might just take her breath away and make the occasion ten times more meaningful.

Read about how you could add a notch to exciting activities such as an unknown destination, a scavenger hunt, a skydiving session and a trip to the farmhouse to lead it up to an adrenalin-pumping proposal.
Return to top of page

Return from Marriage Proposal Ideas to Homepage