Romantic Proposals
Looking for romantic proposals to give you ideas on how to create your own perfect plan? Here's where you can read about four ideas that will spark your own creativity further.
Even armed with a plan, many unexpected conditions might take place. So just keep an alert mind, be spontaneous and adapt to the changing situations accordingly.
I remember how when this guy was about to propose to my friend during a Christmas Eve party, to his dismay realized that another unsuspecting friend plopped herself down into the very armchair he was intending for his girlfriend to sit in! The rest of us noticed how he was acting rather uneasily, and in the end we laughed when we found out his intention to get the noisy bunch of us to quieten down so he could propose to her. A few hiccups but he finally did it. :)
Let's look at some creative marriage proposal ideas submitted by site visitors!


---
Romantic Proposals No. 1
Fortune Cookie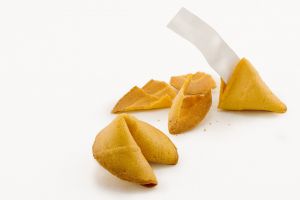 "An original idea for a marriage proposal is to inset the proposal into a fortune cookie. Companies will create fortune cookies with any fortune that you want. Try "You will be a bride (or groom) very shortly" and have the cookie handy. Go to a Chinese restaurant, and slip it to the server with a big tip so you are sure that it will arrive. Say nothing all through the dinner. Make a big deal about how fortunes always come true while opening yours. Pick a nice Chinese restaurant that serves alcohol, so you can get champagne served afterwards.



---
Romantic Proposals No. 2
The Local Bank
"See if your local bank or credit union manager will allow you to send a marriage proposal through the drive-through window. Casually find out when your intended is going to the bank, arrange to be there with the question written out and maybe a flower, the ring (if you trust the pneumatic system!) or any other items that fits and will represent your relationship. Maybe starting your life together at a bank will mean a wealthy and healthy future!"
---
Romantic Proposals No. 3
Note on Her Pillow
Submitted by: MaryBeth (USA)
"A fun and romantic adventure for your girlfriend, is to leave a note on her pillow with directions to find the next clue, don't make them too hard, use clues that have something to do with something related to things that are important to both of you, after about 10 or more clues, let her find a little prize. It can be anything from candy, sweets for your sweetheart to something more important and or meaningful even up to an engagement ring."
---
Romantic Proposals No. 4
Promise Ring Treasure Hunt
"When I wanted to give a promise ring to my sweetheart, I decide to go with a beach theme. I didn't have a lot of money to spend, so I came up with a few ideas to keep it cheap.
First, I created a treasure map of our apartment by drawing the basic layout then interpreting our place into classic pirate images such as sea monsters where our fish tank was kept, palm trees where the furniture was, and a treasure chest where I hid the ring. I also added a little ship and the classic X to mark the spot.
I then found a green drink bottle, rolled up the map, and left it in front of the door to be found when my baby came home. I then scattered some fake hibiscus flowers on the floor in a path to the bedroom and put up a cardboard palm tree on the wall.
I downloaded some free ocean noises to play in the background for the added effect. Finally, I "buried" the ring at the X in a tiny zen garden made from a cardboard box filled with sand. Even though it was inexpensive, my honey got the idea and loved it!"






Look at More Marriage Proposal Ideas

Return from Romantic Proposals to Homepage