Engagement Proposal
Looking for an engagement proposal idea that wows your intended?
There's many ways to generate romantic proposal ideas, and this page will focus on how various occasions could be used to your maximum advantage to create a plan to win your intended's heart. The four ideas are all generously shared by site visitors.
If you have original marriage proposal ideas to share with others, please submit your ideas here.


---
Engagement Proposal No. 1
Date of Your First Meeting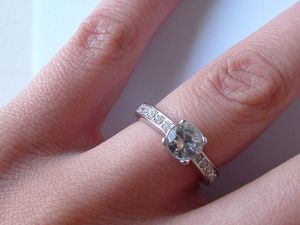 "Ideally you want to plan to propose on the same date as you have first met, this can be your dating anniversary or the day your were first introduced. Take her out on a date, and casually make your way to the place where you first met, or the place you went on your very first date. Get down on one knee and pop the question! You could also arrange a photographer to wait for you at that place, and start taking photos that she will later love for her scrapbook."



---
Romantic Proposals No. 2
Thanksgiving Day
"Wait until Thanksgiving day. Seat all family members in a circle. Ask that everyone go around the room and tell what they're thankful for. Place yourself in the last position. When it's your turn, give a speech about how you're thankful for your honey and then pop the question. Have roses ready for when she says yes."



---
Engagement Proposal No. 3
Valentine's Day
"I took my wife fishing a few years ago when we were dating. It was Valentine's Day and I hadn't yet bought her a gift. When I got off work I headed straight to her house and seeing as how I hadn't known I would even be in town; I hadn't made any plans for a date. While I was trying to think and she was trying to be OK with everything we passed a pond. It got me thinking and I told her to stay in the car while I ran into a department store and got some gear. I came back out with fishing gear and we went to the pond. When we got there, I started setting everything up while she went to get something out of the car. When she returned I commented on the hook I had tied on her new rod. When she pulled it up to look at it, she was breathlessly looking at an engagement ring. It was picture perfect. She said yes, and we have been together for 5 years now."



---
Romantic Proposals No. 4
Meeting at a Concert
"This is an idea that I've been thinking, my girlfriend and I, we're both big fans of an indie group called Bright Eyes. Since we both met at a concert last year, I want to marry this girl so I'm thinking that sometime during this year, I'll go to another concert of Bright Eyes with her. And once they start singing our song "First day of my life", I'll just propose right there, before the song ends."







Look at More Marriage Proposal Ideas

Return from Engagement Proposal to Homepage