You Know I Love You - Visitor's Love Poem
by Lizelle Tabaquero
(Philippines)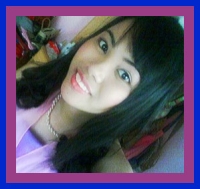 Lizelle Tabaquero
Psyche's Response
Alternative title: "You Know I Love You"
Written by LIZELLE TABAQUERO

If you bought me some flowers I'll take it!
No reason to throw, instead I will smell deep
I might shed some tears due to happiness
And as my cheeks grew red, I'm blushing tirelessness

Buying me a gift is such a wonderful thing
Even if it's not your everything
I will be the luckiest woman of racial
For it was given by you; so special

You can see me alone sitting not in new
Never doubt in my silence without hue
My love for you is totally real
For no other man can take me with invisible seal

Things are not worthless if you have faith
Love is you, for you're the sweet CUPID, not the stupid late
And I am PSYCHE, the OPTIMIST TALKER
Directly speaking and IMITATING A LOVER.
Join in and write your own page! It's easy to do. How? Simply click here to return to Submit Your Poem.